CONSULAR NEWSLETTER - MARCH 2021
The third edition of the Newsletter on Economic and Tourism Affairs of the Consulate General of Mexico in Phoenix. In three months, we have begun to fulfill our goals: This newsletter has become a meeting point that is uniting the Arizona business community with the friends of Mexico.
#ChooseMexico provides important information on the Mexican Government's current initiatives––such as its feminist foreign policy and its egalitarian approach to access COVID-19 vaccines.
#ArizonaThrives offers the perspectives of top Arizona leaders. In this issue, we are honored to have the collaborations of U.S. Sen. Mark Kelly, one of the senators representing Arizona; Kim Grace Sabow, president of the Arizona Lodging and Tourism Association; and Nico Cuevas, CEO and Chairman of Urbix, Inc.
#DiscoverMexico continues to promote the vast cultural and gastronomic attractions of Mexico. In this issue, we highlight the wonders of the Mexican state of Jalisco, the cultural heritage of the Pueblo Mágico of Magdalena de Kino, and more.
I hope you enjoy it!
Visit: https://consulmex.sre.gob.mx/phoenix/images/2021/MARZO/SRE21_CN_MAR.pdf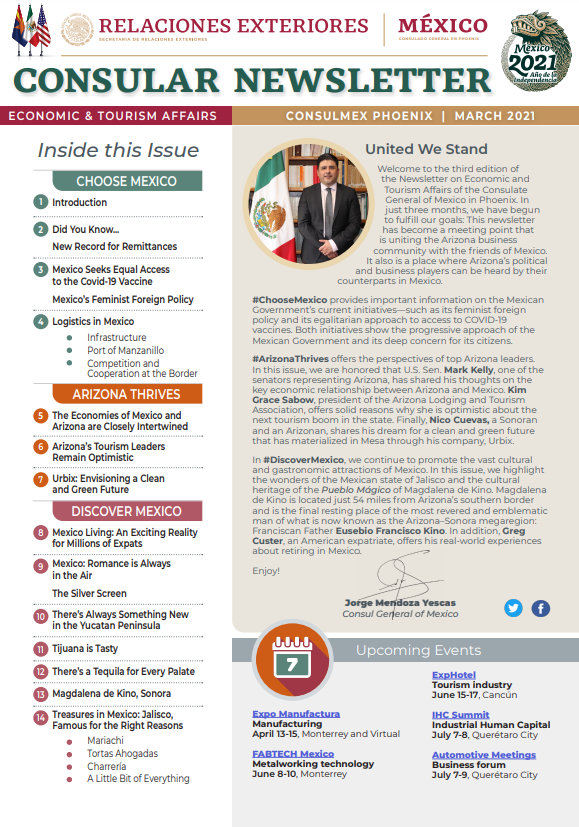 Related Links : https://consulmex.sre.gob.mx/phoenix/images/2021/MARZO/SRE21_CN_MAR.pdf
Source : https://consulmex.sre.gob.mx/phoenix/images/2021/MARZO/SRE21_CN_MAR.pdf